JoeyTritten

I'm New to PPC!

Posts

: 4


Join date

: 2017-09-19


Location

: Forgot

on Mon Jan 01, 2018 10:50 am
Message reputation : 100% (1 vote)
FURPOCOLYPSE EP 1 (The Revolt)
I'm really excited to show you a project I been working on for the past 3-4 years. It has been through several forms and there were times where I almost gave up but I managed to push the limits of PowerPoint and what it can be used to tell a story. I hope you enjoy this premiere episode of something I'm very proud of. Made by me (Joey Tritten) and Jon Blow. FURPOCOLYPSE: an action-packed blood-soaked adventure of such epic proportions never before seen in any PowerPoint slideshow... UNTIL NOW!
Sprawled over an episodic series, it is set in a bleak post-apocalyptic landscape ruled by fear and ruthlessness.  It's weird inhabitants,
some trying to live their lives whilst trying to ignore the horrors of the aftermath of the devastation, others violent lunatics with no explanation for their actions, and the rest.... Either brigands, tyrants, or the dead. A place we would call heck they call… EARTH!
After a night of binge drinking at the 1987 Christmas party, Fox Mange wakes up several decades into the bleak future, transformed into an andromorphic fox and being taken captive to a base in Northwest Wales controlled by the anti-fandom militia 'The Human Resistance'. All seems lost, until a disastrous error brings Mange to a desperate race to freedom at any cost!
With multiple paths to take, how far are you willing to go for escape?
DOWNLOAD:
https://drive.google.com/uc?export=download&confirm=52FQ&id=1JZt0Cu7oyZF_9NZ1eF_4-blY4i1MjLIE
Screenshots: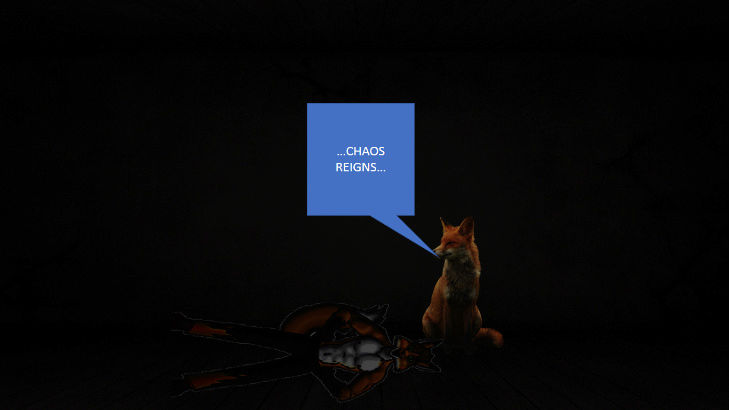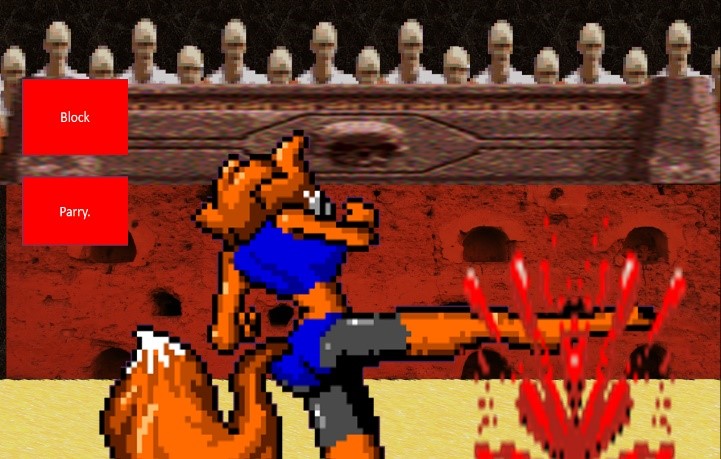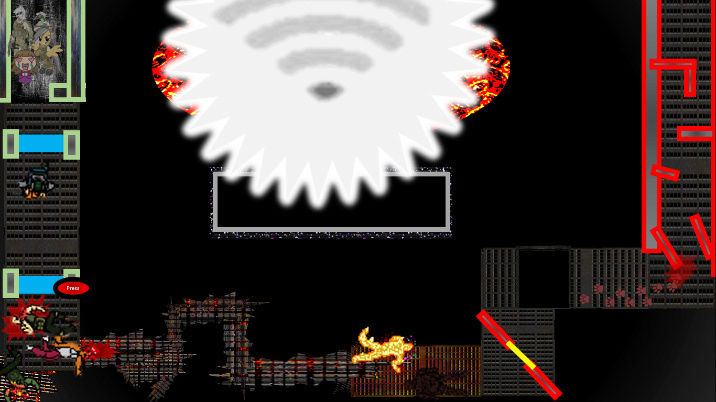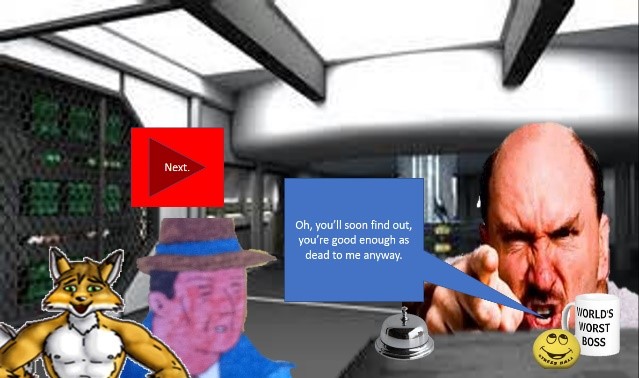 on Mon Jan 01, 2018 2:13 pm
OMG!

Firstly, let me say that the storyline is bonkers and the graphic images are appallingly bad.

Secondly let me say that I think it's a masterpiece of a bonkers storyline and appallingly bad graphics along with brilliant vocal and audio effects. I love it.

The game has not been made in 'Kiosk' mode which means that I was able to get nearly to the end by right-clicking on the screen after I had been killed (which I was frequently) and hitting 'Previous' enough times to take me back and start the fight again. I think I would have got frustrated if it was in Kiosk mode and I would have had to start from the very beginning after each death - that would have been frustrating.

I was quite happy watching the story unfold as an animation at the beginning. When I realised I had to 'do something', i.e. click something quickly, I knew I was in trouble as I'm not a very quick clicker (it's me age mate). As the game progressed I really liked having the options for taking different courses of action. I've got to play it again and try out each one.

Oh, just quickly, for our non-UK members: 'FAG' = 'CIGARETTE' - NOT A DEROGATORY NAME FOR A GAY PERSON and a 'CHAV' is a perjorative epithet used in Britain to describe a particular stereotype of anti-social youth dressed in sportswear. (Thank you Wikipedia). And while I'm in educational mode, did you know that the only true Britons left in Britain now are the Welsh. The rest of us are descendents of immigrants from mainland Europe.

That's another thing I need to do with this game - put the Welsh speech through Google translator.

Thank you Joey. What a weird, wonderful and blood-splattered start to 2018!
on Mon Jan 01, 2018 3:04 pm
The screenshots do not do justice to this game. They primarily show the graphics, which are indeed appallingly bad, but somehow, with the nonsensical storyline and how often I laughed at what I've seen so far, I feel like that actually contributed to the experience.

Man, this game's reaction time frames are harsh! I can't imagine how anyone would survive each reaction challenge on the first try. Thankfully, it's possible to rewind slides since it's not made in kiosk mode.

Haven't finished the episode yet since it's fairly lengthy, but by no means have I grown tired of the game. Advice for future players is, don't take this game seriously. You'll probably die a lot, but it's worth it so you can see the over-the-top animations. This is hilarious entertainment at its finest, as long as you're able to handle it.
on Mon Jan 01, 2018 3:29 pm
Have yet to try this, but it sounds this games redeeming quality is the storyline. I whole heartedly agree that if you're going to make a game follow a story, focus more on the story itself and then work your experience around it. If you focus on the graphics or features and have a weak story, the game wouldn't be perceived as fun. Same goes witch movies, I'm sure you've seen some visually impressive movies out there that just look amazing, but hard to watch because there isn't much of a compelling story.

I can't wait to see this game soon and I'll chime in on what I think.
Permissions in this forum:
You
cannot
reply to topics in this forum